Beautiful South Side Longview will be held June 25, 2016 at the Boys and Girls Club of Gregg Co. in Longview.  Events and fun begin at 3:00 p.m. E. W. Jackson will be the featured speaker for the evening.  Bounce Houses and Movie begin at 3, T- Force Strong Men on the main stage at 4, Skydivers at 5, Free Meal at 5:30, Kasha Williams and Nonna Snoddy, along with Mayor Andy Mack and Judge Stoudt at 6, with tremendous door prizes all evening.  Tickets are free but must have a ticket from the gate to be entered into the door prize drawings.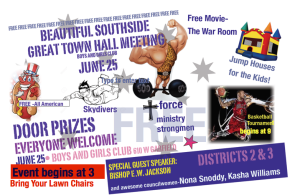 From the Longview News Journal;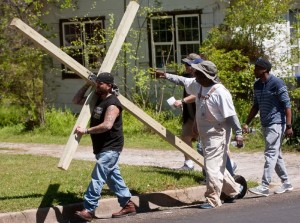 continuing effort to unify South Longview neighborhoods will continue next weekend, when organizers have set a town hall gathering and festival with entertainment and food.
Nona Snoddy, District 2 councilwoman, said the meeting at the Boys & Girls Club of Gregg County is an effort to unify all the neighborhoods, because all are facing similar challenges and have the same opportunities.
Snoddy represents Southwest Longview.
"I hope that we can mostly change the mindset of our people, where we can just show love — not just in our words, but in our actions," she said.
Organizers from the Beautiful South Side Longview effort said they hope to attract people from across the city with what they're describing as a family-friendly atmosphere that includes live entertainment, free food, skydivers, a 3-on-3 basketball tournament and door prizes.
Beautiful South Side Longview is an initiative between pastors in the city, the city of Longview and area businesses to bring about change in the area. In March, dozens of people walked through neighborhoods as part of a Good Friday "cross walk," in which they ministered to neighbors through prayer, gospel singing and encouragement.
Snoddy and District 3 Councilwoman Kasha Williams — who represents Southeast Longview — said the meeting will have a strong faith-based element.
"With God, all things are possible, so we're hoping that this is going to be possible, and these things will come to fruition," Snoddy said.
Added Williams: "South Longview is the 'original Longview' and a true place of beauty. Standing together in solidarity, we say 'no' to the violence, 'no' to the negativity and 'yes' to continuing to build up our community by working with our constituents, encouraging positive youth programs and building up our neighborhoods, one brick at a time, one heart at a time."
Dale Perkins, a facilitator with Perkins Partnership Ministries, said the movement is built on a Bible verse in Matthew 5, which mentions a city set on a hill.
When Beautiful South Side Longview founders first met late last year as the city was seeing increasing violent crime, organizers wanted to emphasize the seven points of light from the Bible.
First, they had a "Jesus Burger" event in the area where major crimes were happening, he said.
Second, they looked for Christian-themed activities for teenagers during the summer and after school when they have idle time. After the third "light" of working to find ways for city bus routes to get more South Longview residents access to jobs on the north side, the fourth light focused on working with the police chief for increased officer patrols and the chief becoming more visible to young people, he said.
No. 5 was dividing council districts 2 and 3 into 50 blocks, and putting a man of peace in each of those blocks. The man of peace has no police authority but helps people with needs such as broken windows or unmowed lawns.
Saturday's town hall meeting is the sixth endeavor, and the seventh will be an effort to build another Boys & Girls Club in South Longview, Perkins said.
"We want Beautiful South Side Longview to become the envy of the entire city," he said. "Some people laugh at that and say that's impossible, but it's not impossible. He's going to do it, God willing."
SHARE
9
Comments