Hundreds of Classic Praise CD's have been sent out of our PPM office and it has been a tremendous blessing for all who have heard it. Each song has a tremendous message that will touch and bless your heart.
Classic Praise East Texas was privileged to travel to South Carolina, Ohio, Iowa, New Hampshire, Las Vegas, and Tennessee, California, Colorado, Florida, Texas and several other states. This year we are scheduled to sing at several more Pastor Restoration Projects throughout the nation. God is using Classic Praise East Texas in a  mighty way.  Please pray for the Spirit of the Lord to rest on our singers as we lift His name.
We pray the music will be a blessing and a ministry to you and your family.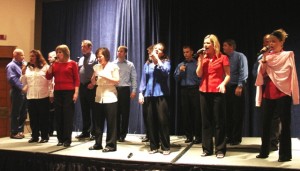 Classic Praise of East Texas recorded a brand new CD entitled "Through the Fire- I Will Carry You" To purchase your copy, send your check payable to PPM in the amount of $12.00 or pay online through the PayPal Link (includes postage). We will be happy to send it to you. It was an unbelievable experience for all involved. The process took days of intense work. We believe the efforts will show in the evidence of the sound. Before each recording session, we sought the Lord's blessing and inspiration in our sound and in our presentation. Our desire was that God would touch others through the message of music we were presenting to our Heavenly Father. Purchase copies for family and friends for any occasion. It is a gift that will help them in their daily walk with the Lord.