Perhaps, one of the best trips to the prison we've had thus far.  It was such a blessing to those we met and prayed with, as well as those who traveled and ministered with us.  Thank you for praying continually for God's leadership.
Gary Don Holley visits one of the men, praying with him and over him.  Asking God's comfort for him and blessings on his wonderful caretakers.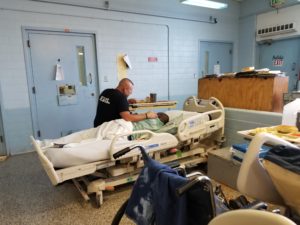 Dr. Fred Lowery visiting with one of the inmates, sharing the plan of salvation and God's indescribable gift. JESUS!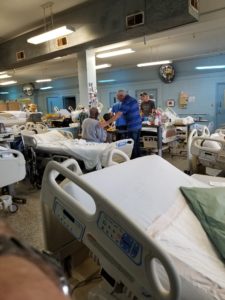 Our Angola team has returned from Camp J. The roughest part of Angola Prison.  When we left, the inmates where calling it Camp Jesus!  How cool is that.  He makes a change not only on the hearts of those outside, but on those on the inside of the walls too.  The Prison team was very excited to visit with old friends and make new ones.  Pray the Lord goes before and prepares the souls for the next harvest as the message of Christ is presented in a way like never before.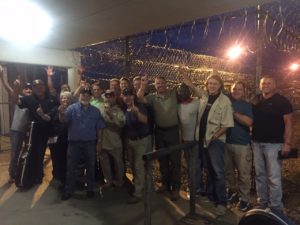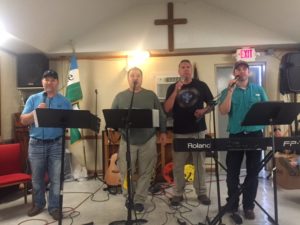 The quartet from Woodland Hills led in worship at Camp J. Pictured are Wes Markum, Clay Perkins, Darin Lear, Aaron Perkins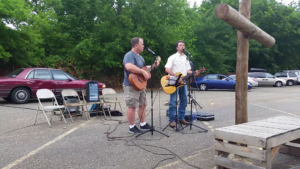 A man released from prison January of 2017 with a changed heart, begins by ministering on the streets playing at Jesus Burger, Josh Webb, pictured above to the right of Clay Perkins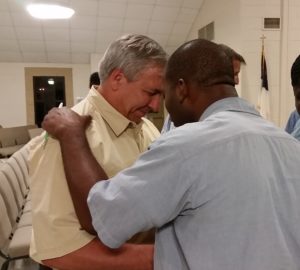 Wade Johnson prays with one of the inmates and also receives encouragement from the men in the unit.  The Blessings that are ours, are indescribable. In Wade's own words…
I was recently invited to go with the Perkins Partnership Ministries to the prison in Angola, Louisiana. I really had no idea what to expect. Was it going to be like some Hollywood prison movie where the inmates were behind bars always trying to escape? Were they bitter and mad at society for being incarcerated for life? I wasn't apprehensive, just unsure of what to expect. The word "Surprised" is an understatement as to what I experienced.
The warden at Angola has really changed the culture of that prison. He is a Christian. It is very obvious that he is well respected by the guards, chaplains, and inmates as well. He has not just allowed, but promoted the opportunity for the inmates to worship the lord.
We participated in three worship services while we were there. They were unbelievable. The musical talent inside that prison is indescribable. But more importantly is the fact that these inmates were worshipping with no distractions. They were focused on the lord. They weren't thinking about lunch after church or what time the football game started. They were there simply to worship.
I left that prison with a far different perspective than I came there with. Many of these men committed crimes that have warranted life in prison, or even worse, the death penalty. I visited with an inmate who was on death row. I told him that I believed in the death penalty and that coming to this prison was a challenge for me. He said he understood. Our conversation helped remind me that even criminals such as these are still God's children and have the opportunity for eternal life.
I will continue to process this trip for months to come. It was truly an experience of a lifetime.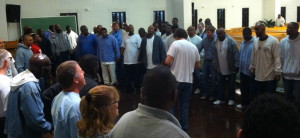 Praying with the men during one of the services
Angola 5.0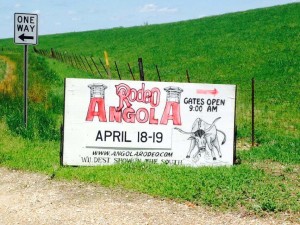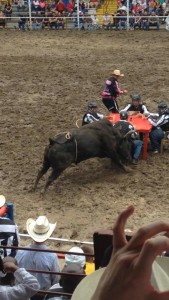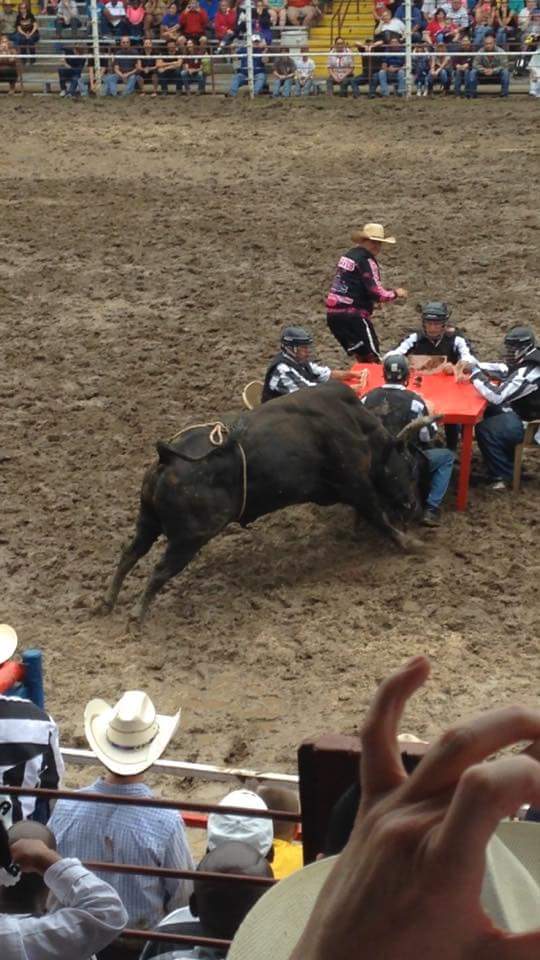 Prison Poker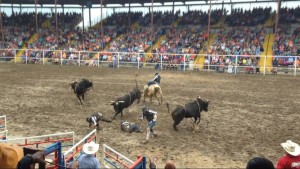 Angola's Buckout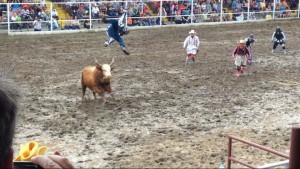 Inmate catches early flight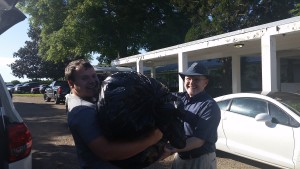 Sharman's Sewing Center of Longview, donates bags of Material and Thread to be used by the Inmates of Hospice to Minister to the other Inmates and their families during difficult times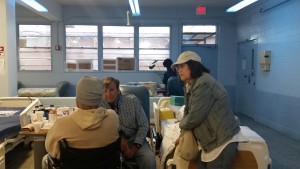 Dale and Shirley Perkins minister to man in the Hospice Ward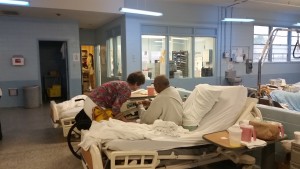 Dorthy McDonald ministering to Hospice patient
Angola 4.0
February 2015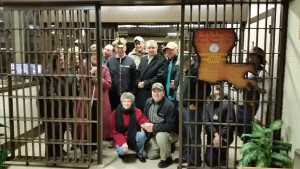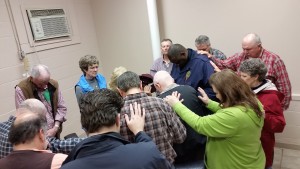 Praying for one of the Chaplains and Death Row Guard inside the death chamber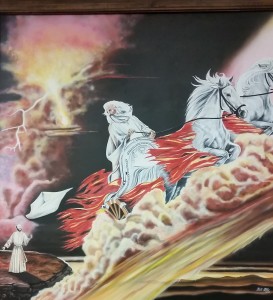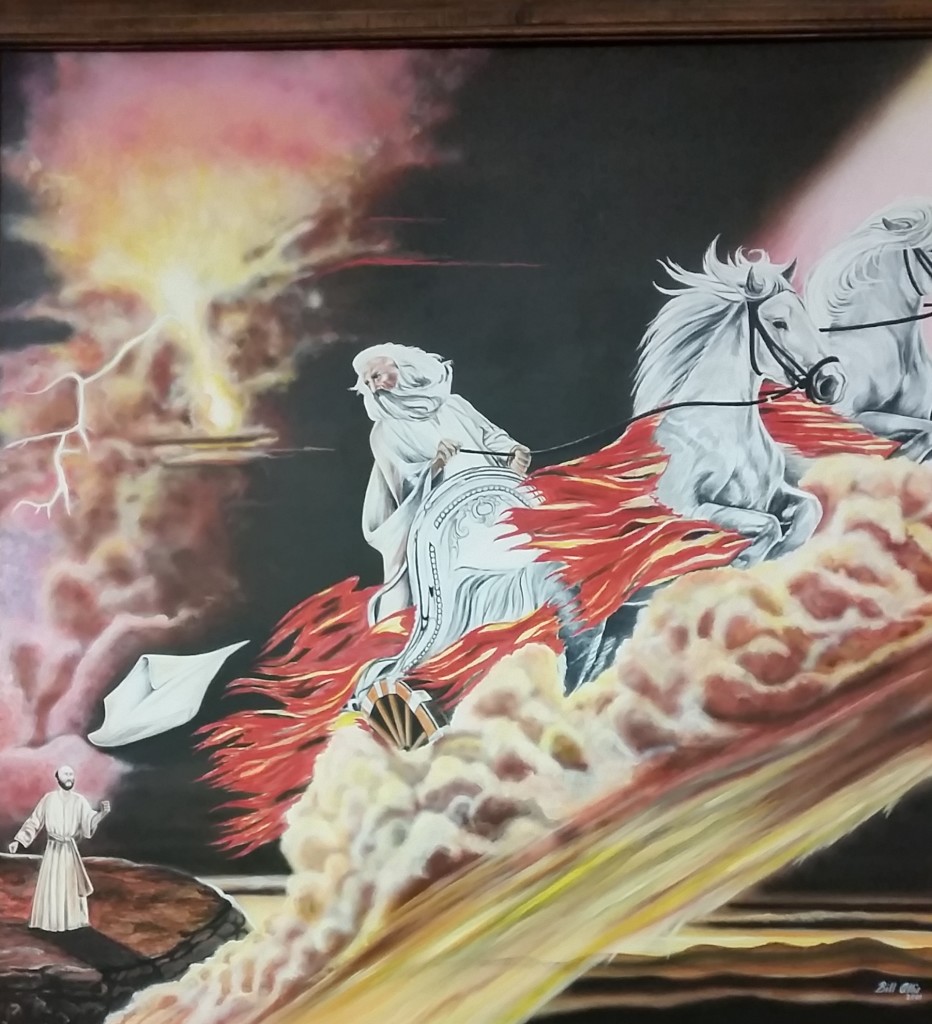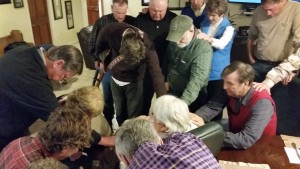 Angola 3.5 October 2014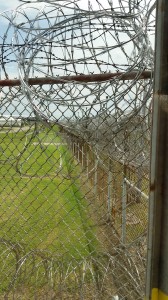 Thank you for the privilege of visiting the men of Angola State Penitentiary. It was a new experience for me and I felt tremendously humbled by many of the men I met there. Some men were filled with the love of Jesus; others were desperately seeking the peace they saw in their fellow offenders. At times I sensed the spiritual warfare swirling through the 18,000 acres even though visually it is a beautiful campus. The devil's demons do not want the peace the love of Jesus instills to abide within your boundaries. But it is exciting to see the beautiful chapels with their tall spires towering over the landscape signaling the hope we have in Christ. Thank you for answering the call to provide the opportunity for the men of Angola to hear the Word of God and for the training provided to the pastors which are being raised up from within. The service at Camp D which we attended on Sunday morning was most impressive. I have no qualifications to pass judgment on the service or the pastor in charge except as one seeking soul who attended. This Pastor could be welcomed at any pulpit hoping to see its people nurtured, inspired and filled with the hope of the gospel. His message on the Apostle Paul met his congregation where they are as he spoke of the struggles and imprisonment of Paul and his perseverance and triumph through it all. It was powerful and well delivered. The men of Camp D are blessed to have him. Warden Cain, you, too, are a most impressive man and what a joy it was to meet you. The gift you have given to the men of Angola and the State of Louisiana does not stop there. Your message is surely being heard far and wide and may it grow deep roots across this nation. As you make major decisions for your future, I know God's ear is near and His counsel perfect. May His blessing continue to be upon you. Dorothy McDonald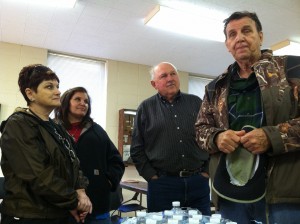 Dale Perkins speaks to our team as we prepare for the 1st of 5 services in the prison units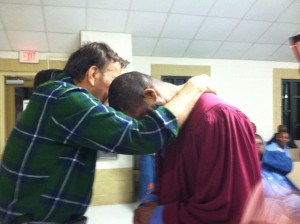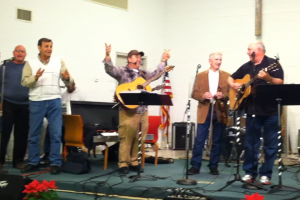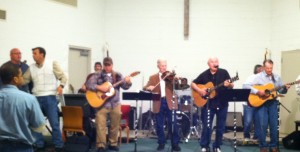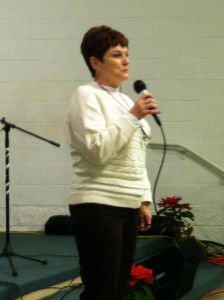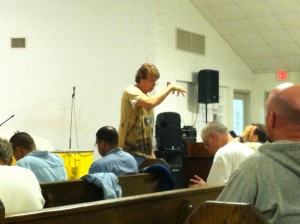 Lives Changed families affected (A letter from an inmates mother)
Dear Clay, Meeting you, Renee' and your father, Dale, was a tremendous blessing in my life.  I meet new people all the time and never feel the presence of God, but with your family, it was certainly different.  My spirit was soaring, like Jesus had just walked in…and He did!  Through you guys!  Praise God!  I cannot tell you the joy I felt.  I hope you don't think I was crazy, but I just couldn't contain my joy!  Please let your dad know that when I hugged him, I was "home" in his arms!  Don't ask me what that meant except I felt an extreme love for him.  Wow!  Only God could make this happen.  Thank you for being so down to earth with us, showing your real self.  Renee' is so beautiful and full of love.  Please tell your mother that I was blessed with all of you and that I am sorry I missed meeting her, too.  Allie was blessed beyond words with your father's blessing.  That was a secret prayer of mine, that the Lord  would choose "who" but I wanted her to have someone pray over her.  The Lord chose your Dad!  The other friends blessed us too.  We will never forget Dorothy from Kansas!  Well, please have a wonderful day and remember that you all are doing this for Him!  And it is working…you are making a difference in peoples' lives. Thanks for loving my precious son and blessing him as only one who knows and carries Christ can. Love, Debbie Guidry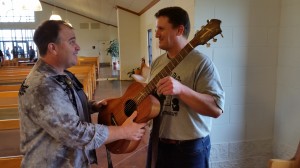 This guitar was made by one of the men of Angola.  Taken literally from a burn pile and transformed to a new instrument.  The message that we received from this is that God does the same thing with our lives.  Bound for destruction and worthless, made to be usable instruments for His glory.  Praise God!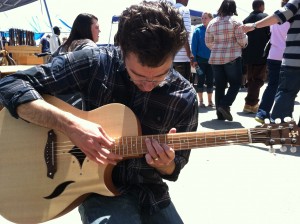 Testimony from 
Ben Shepherd
The book of Matthew, Ch. 25, contains a part of scripture that I had not considered for myself.  I figured it was better left to my brothers and sisters in Christ who are more familiar with the correctional systems of our government.  It is very easy to not take part in this particular ministry, because it is contained behind bars.  I was happy to leave it there, until Clay Perkins, of the Perkins Partnership Ministry, inspired me to reconsider that decision.  I did, and as I continued to struggle with uncomfortable thoughts and excuses, I could not deny what a disciple of Jesus Christ has been called to do. I left for Angola Prison on Friday morning, unsure of how the Lord would use me, unfamiliar with what I considered would be another world.  I returned very different.  I became a witness and participant to a great moving of the Holy Spirit that I know is far larger than I can see.  I met many men, with stories to share, and many who are actively pursuing a life with Christ.  I know that through the love we shared through song, testimony, and conversation, many prisoners and Angola staff members witnessed an undeniable healing power in Christ.  I saw that through the name of Jesus, people were inspired to talk, to dance, to sing, to cry, and to claim the love and forgiveness in Christ.  I prayed for several men, and some at their bedside.Each time I was given this chance, I desired it more and more. I realized that the people I was working with, the Perkins Partnership, worked naturally within the call of the Holy Spirit.  I feel blessed to have been a part of this group, and I know that the work we participated in will grow and inspire others.  It's possible that many of the prisoners we visited are experiencing more freedom in Christ than many of us "free people" are allowing ourselves to experience.  Let's sing His praises together and tell others of His wonderful deeds. Jesus is Love! Ben Shepherd of Shepherd Guitar Studio
October 2012
The Angola and Jetson Mission trip was anointed from the start.  There where obstacles that seemed impassible and sometimes impossible, but as always, our Lord came through with a  mighty movement.  There where literally dozens of young men that came to the cross on Saturday morning giving their life to Christ. To see these young men broken and receptive was not what the enemy had in mind for PPM's team to accomplish.  The love of God has no fence that can keep it out or circumstance that can sidetrack its purpose.  After Jetson, we traveled to Angola State Pen to hold a service in the Main Camp.  The chapel was full of new inmates that now occupy Camp C from a facility that has recently closed.  The message that was presented by Gary Don Holly and Alan Johnson was fresh and anointed. Aaron, Adam, and Clay Perkins led in the worship time preparing hearts for the message to be received.  It was more than received, it was sucked in like a cool drink of water by a thirsty farmer on a hot summer day.  Pray for the many men that made decisions to leave their burden at the feet of Jesus at both facilities.  It was an experience that only the Lord could orchestrate.
Angola Testimonies
Last month I was invited to go with Perkins Partnership Ministries to participate in their ministry at Angola Prison in Louisiana, and what a joy it was!   That weekend was the prison rodeo which meant visiting the prison was a little different than what was the norm.  I could tell it was going to be a great weekend for the Lord by the VIP treatment the prison employees were giving us.  Everything worked like clock work, we get to the rodeo and after opening ceremonies we began visiting with the inmates who were selling everything from hot dogs to a gas tank for a motor cycle.At first the inmates were just trying to sell their goods, but once they realize we wanted to visit with them about salvation they opened up and shared their faith testimony.  Every inmate with whom I visited was a Christian.   It didn't matter if they were lifers or long timers, you could see the calmness in their spirit.  The Holy Spirit was bringing to life Philippians 4:11 ( I have learned in whatever state I am, to be content.).  To see the change from harden criminal to born again Christian is to me the most powerful evidence of what God can do in our lives if we will just allow the Holy Spirit to do a work through us. In Prison, you are surrounded by angels for protection, then you have inmates for protection, and then you have the environment of prison life.  It goes without saying, you are surrounded by a lot of sadness, but some sadness is even greater than the norm.  I met an inmate who came to Angola at age 17 and is now 49.  He is getting out this year.  He told me that the first 20 years he lived in the flesh but the last 12 years he had let the Holy Spirit rule his life.  It's my prayer and what I told him was, "Tell your story to the free world, to the youth, and come back to prison and share your story with other inmates." We never know what impact we can have on others around us.  Just a few kind words can go a long way when we are down on our luck.  If it weren't for the grace of God, I could be one of those in prison or homeless walking the streets of some town in America.  And,  if I were one of those, I would want someone to come witness to me. Thanks, Mike Wallace Subway Restaurants
Visit to Baton Rouge, LA Juvenile Detention Center
The reality of evil can be oppressive, and Saint Paul, in his Letter to the Ephesians, identifies the warfare of the Christian as being against the societal evils that enslave both rich and poor.  Paul writes, "For we wrestle not against flesh and blood, but against principalities, against powers, against the rulers of the darkness of this world, against spiritual wickedness in high places" (Eph. 6:12, KJV).  This present darkness is amply evident in the daily news, and at some time gripped the hearts and minds of the young men we encountered in the juvenile detention center in Baton Rouge, LA on Sunday, April 22nd. As the young men and boys walked single file into the gym, that was to serve as our house of worship, they couldn't help but check out the visitors.  On the other hand, their quick glances and jesters to each other kept their barriers raised.  If the boys caught our glance they'd quickly diverted their eyes and caught the attention from one of their buddies before the guards reminded them to "mind their manners".  However, when spoken to the boys switched off the peer image and responded politely. The boys seemed slow to respond when Clay opened our time together in song.  Nonetheless, as I looked around at the 90+ boys I could see that several enjoyed the expressive rhythm Clay's fingers produced as he strummed the strings of his guitar.  However, peer pressure does not yield well even as the vocalist tempted each boy to enjoy themselves. Then it happened.  Dale Perkins encouraged a young man to recite The Lord is My Shepherd.  His eyes glistened.  His voice remained resilient as he delivered each line.  He was assured of his position to stand before his peers and acknowledge his Lord.  As timely as Dale encouraged the first boy, Dale summoned another boy to sing a song and then another to rap a poem he had written.  The boys enjoyed each performance.  Even the youth that was determined not to give in to the harmonious atmosphere could but help enjoy their fellow in-mates talent and gayety. From the time we arrived at the detention center there was an air of peace that transcended the bond the Perkins team had developed on the trip to Angola and Baton Rouge.  The sense of peace permeated the prison's house of worship that Sunday.  As each boy stood to take his moment in the spotlight, he willingly exposed his God given talents.   Other boys began to look in our direction to engage our attention.  The barriers slowly lowered.  A smile or a handshake, an exchange of words, or simply a hand on a shoulder resulted in the boy's approval of acknowledgement.  The boyish smiles said loud and clear, "It's okay to talk with me."  It was easy to see the boys who insisted their body language remain a defense shield.  Several young men and yes criminals, tried hard not to allow their shields to be penetrated by the joyous atmosphere yet their youthful tactics still exposed their desire to be noticed. Dale's call to those who wanted to accept Jesus Christ as their Lord and Savior were words that landed on eager souls.  Several boys rose to their feet immediately.  Their steps were light and their faces glowed as they went to Dale's side, turned and faced their fellow in-mates.  They made a choice that transcended their situation.  Their smiles did not leave their face as they glanced from one peer to another.  They knew who they belonged to Jesus Christ. Within minutes more boys walked forward to accept Jesus as their Lord and Savior.  They too wanted to be covered by the blood of the Lamb.  The few that remained sitting couldn't help but look from side to side to see who else was going to "be weak in the moment".  Then a few more stood to their feet, smiles on their faces as they reached the front of the gymnasium. I stood behind the boys in the back rows.  As each looked at me I'd smile.  I approach them, as so did other members of the Perkins team, and ask them if they wanted to walk with me to the front.  It was hard for several to stand up.  Then I heard a small voice of a boy ask, "Would you pray for me?"  A lump welled up in my throat as I said, "Yes sir, I would be honored."  Hearing my response several boys turned in their chairs and looked eagerly at me.  Another said, "Would you pray for us too?"  My heart beamed and my motherly instinct wanted to embrace each individually as I responded, "By all means, all is well when we lift our hearts up to Jesus".  We bowed our heads in prayer as Dale, Clay and other team members talked and embraced the boys that walked to the front.  Upon completion of my prayer I asked those who wanted me to pray for them if they wanted a bible.  No sooner did I finish my request when each boy eagerly asked if they could have a bible even though they hadn't gone to the front with the others.  I smiled thinking how I saw the little boy in each of them.  I couldn't move fast enough to fulfill my promise and placed a bible in each of their hands.  As soon as the last bible was in its owner's youthful grip I asked if I could write their names in their bibles.  Their bibles, the words of ownership, these young men made a choice to accept the seed of faith.  I took each bible from their owner and knelt at their feet.   I opened the cover of their bible, looked into their face and asked what their name was.  I knew I had only a few moments to look deeply into their face for the Holy Spirit to help me with the right words that added a personal message.  My moments with the boys were peaceful and quiet, even though the room buzzed with noise of multiple excited voices that talked all at once.  Every now and then a few stanzas of a familiar hymn permeated the air as the guitarist strummed his guitar strings.  All was well. The heightened excitement faded to a quiet exuberant atmosphere as the boys accepted their bibles from members of the Perkins team.  A few team members mingled with those who refused to sit up from their slouched rebellious posture.  Slowly they realized they were not shunned and talked with the team members.  Slowly they too relaxed and ever so slightly allowed the tough exterior to allow another to interact with them.  In some small way they recognized the genuine expression of love and concern, for them individually, from the members of the Perkins team. Margo Dewkitt Windridge Equestrian Center
Angola 2.0
A team of 24 returned at 2:20 a.m. Oct 4, 2011 from Angola Prison in Louisiana.  We shared with literally hundreds of inmates and guards about the freedom that can be found in Christ.  The trip reaped harvest, but many, many more seeds were planted and relationships with offenders where renewed from our last trip. Our thanks goes to our Saviour Jesus Christ, Warden Burl Cane, Stephanie, Warden Norris, the Lane family Chaplain Wayne, and many others, who combined, made our stay incredible. May our gracious God bless each one of you in His own way.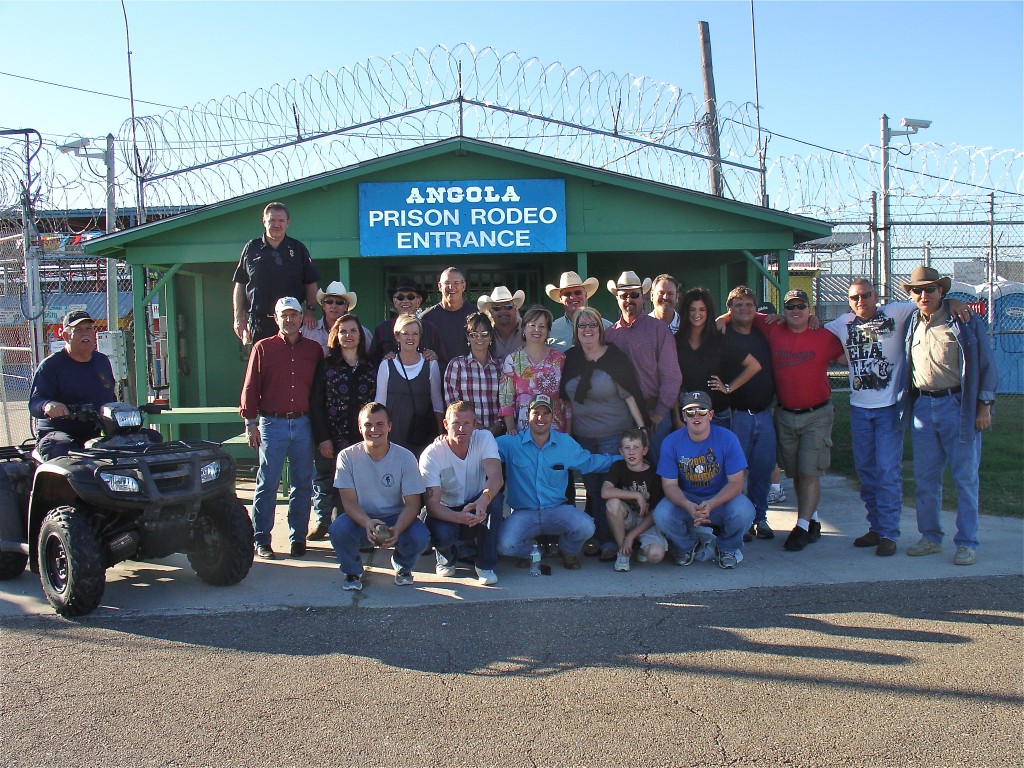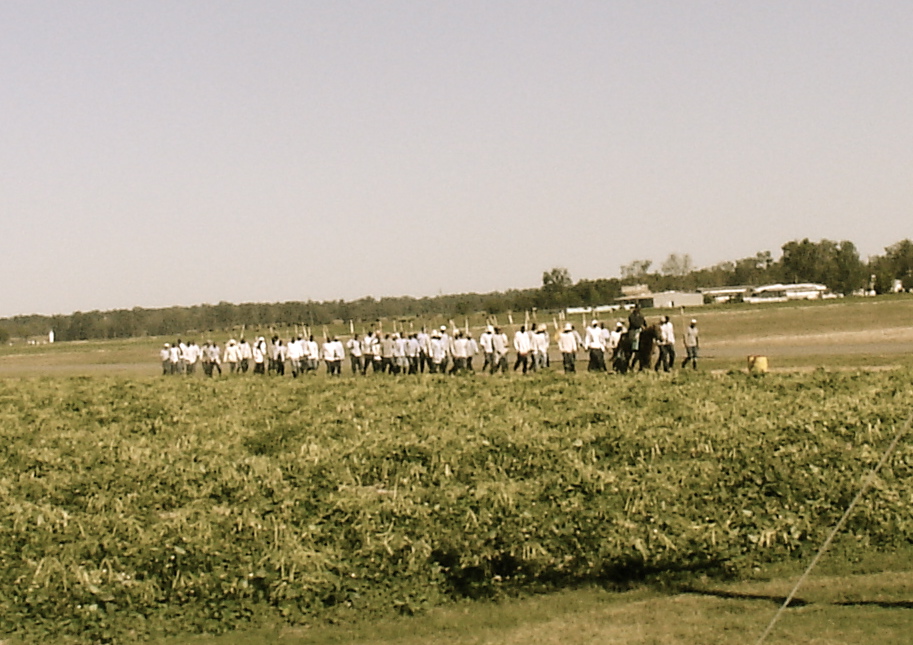 Chain Gang coming in from the fields
Angola Team – April 2011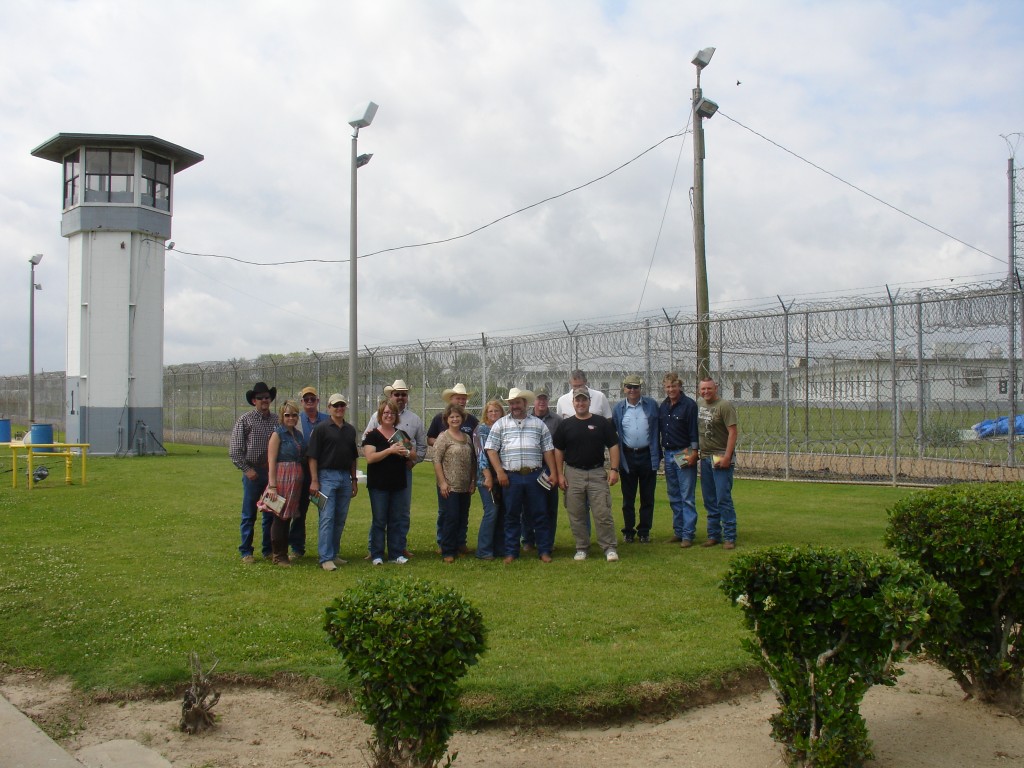 PPM, partnering with Bar-None Cowboy Church of Tatum, had the distinct privilege of ministering for three days at the Angola State Prison, April 2011, in Louisiana.  Twenty-one participants in this unique venture all returned with the same comment, — "We will never be the same!" We were treated with the highest respect and privileged to have the "run" of Angola.  Over 85% of the 5200 inmates will never leave the prison walls.  Many have already served 30-plus years.  Warden Burle Cain, through the help of the Lord, has turned the once most feared prison in America to one of the most admired.  Our team spoke to hundreds of individual inmates and witnessed a marvelous moving of our God at a huge Monday night service.  Pastor Jason Taylor and the Cowboy Gospel Band gave every evidence of God's anointing.  We WILL go back – God willing! If you prayed, gave, encouraged — you have a part in this endeavor. Dale Perkins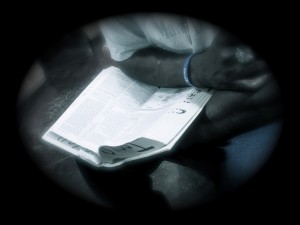 Angola Field Crew

Life in Prison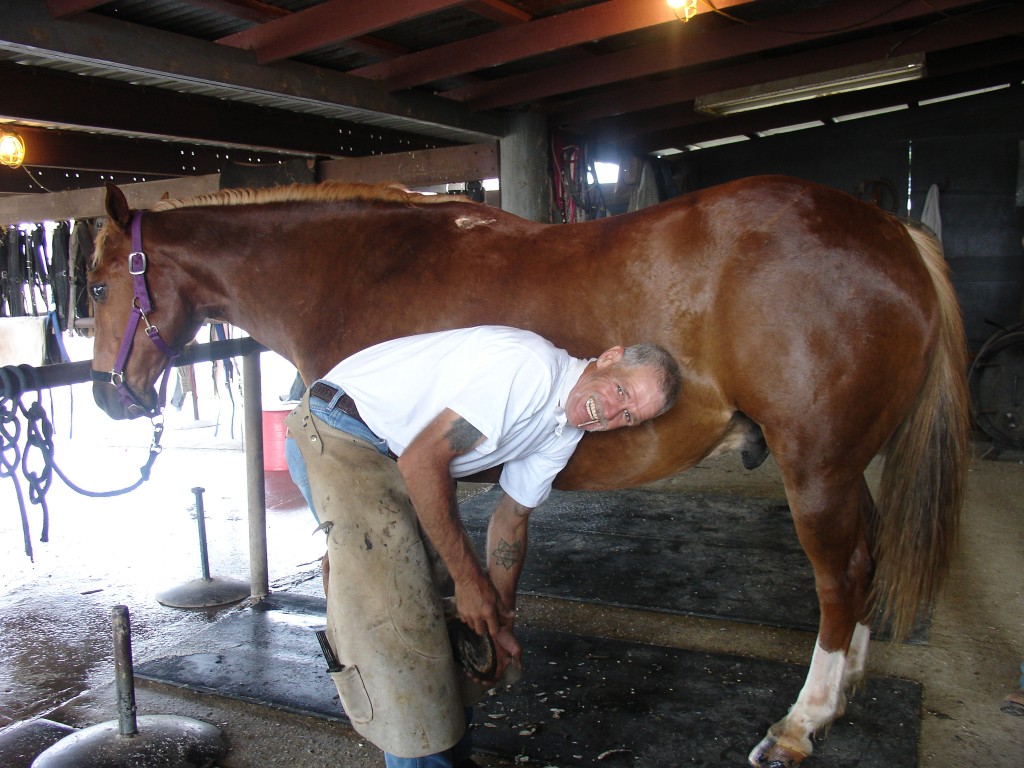 Worship Service in the Main Chapel
Glynn Hughes sharing with Inmates in the Infirmary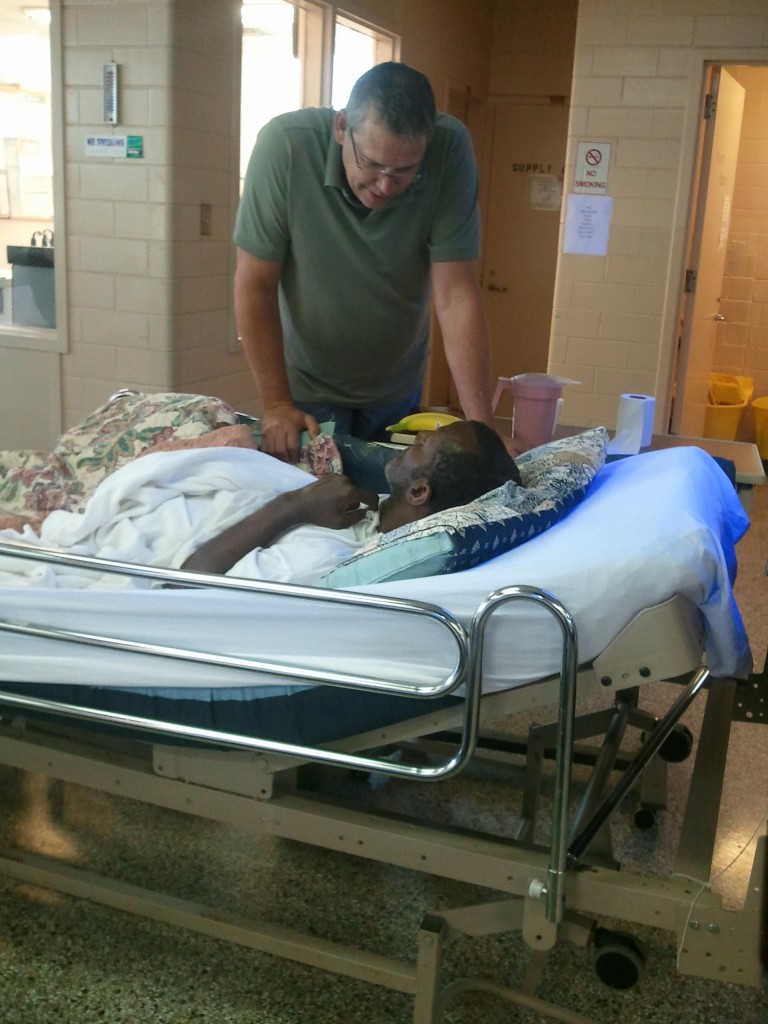 Alan Johnson praying with inmate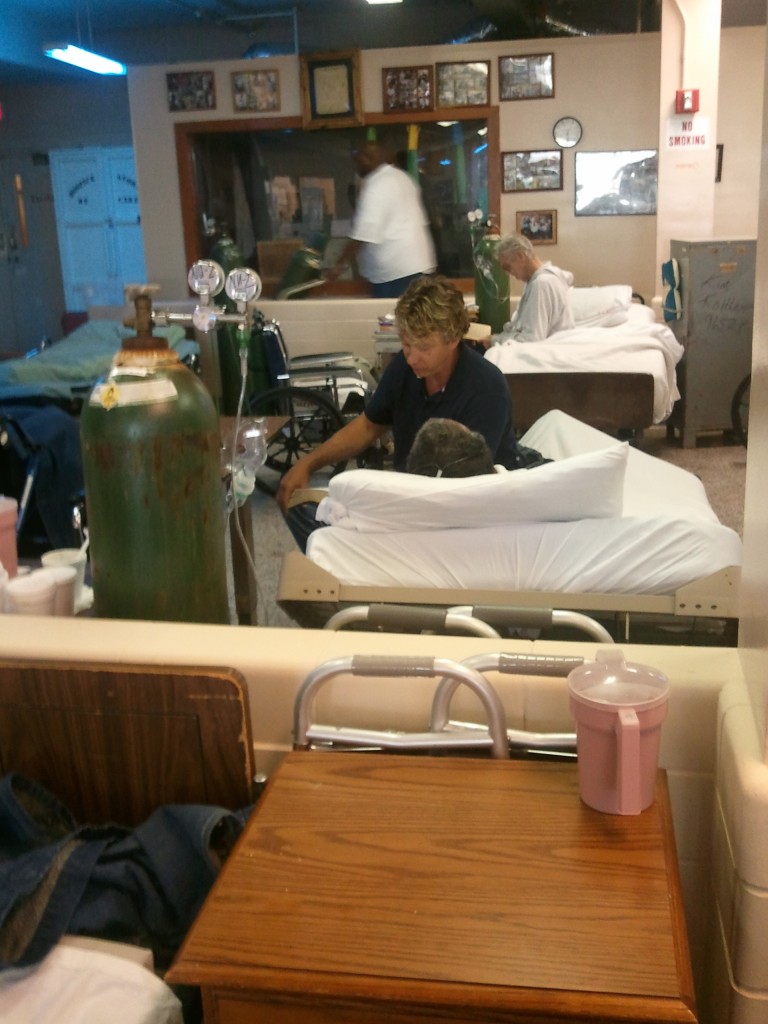 Mathis Hamilton, Renee Hamilton, Bryan Blanton, Gary Don Holley encouraging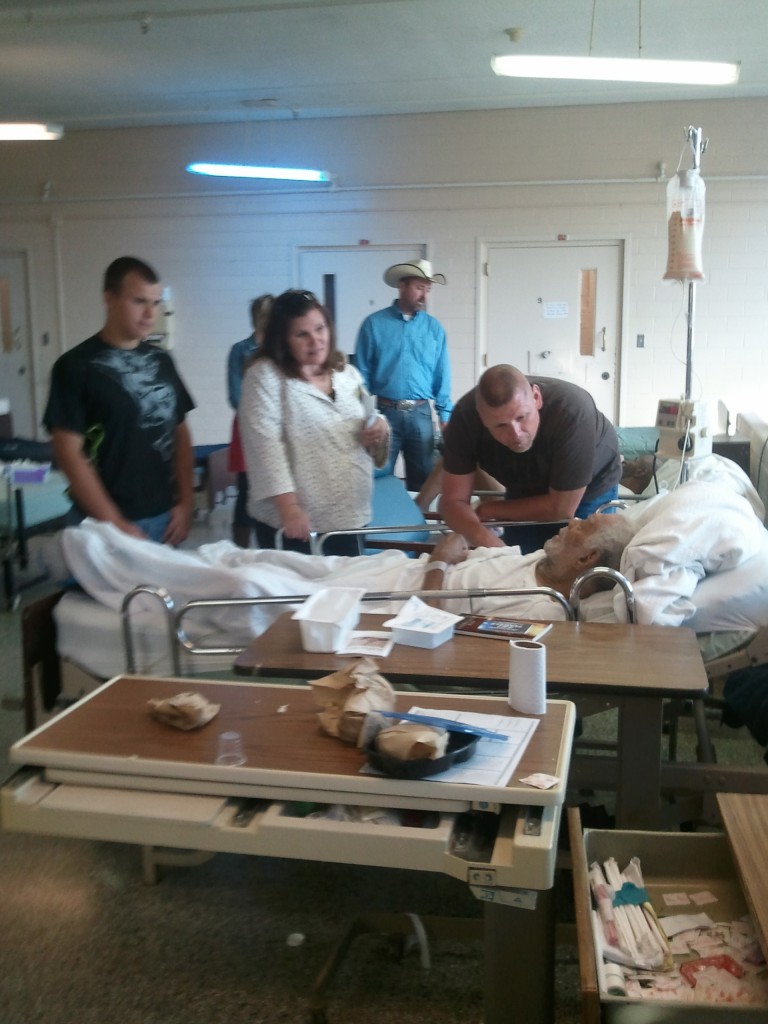 Members of the Glory Riders and Russell Roach Sharing in the Infirmary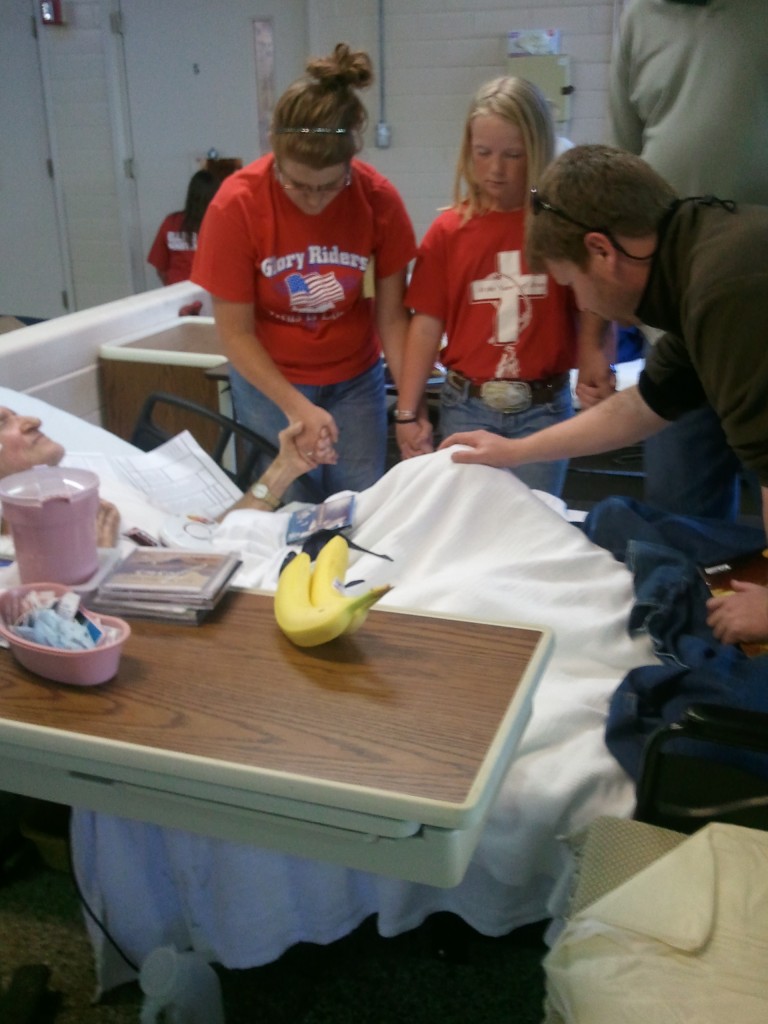 To my knowledge the word "prison" does not conjure up thoughts of beautiful, plush, grounds with birds singing and flowers blooming.  This word does not bring images of smiling faces, joyful people, or hopeful souls. It also does not seem to define a place of peace and serenity.  At least it did not until April 16th, 2011.  Angola, Louisiana.                   Louisiana State Penitentiary. Does that sound like a glimpse of heaven on earth? To most, NO. But to us, who were able to spend a weekend there, will certainly give a shout out of, "YES!"  I am so thankful GOD invited us to experience this weekend with Perkins Partnership Ministries.  To say we learned so much would be an understatement.  To say our relationship with Jesus grew even deeper does not seem to even scratch the surface of what we witnessed by HIS divine hand. Serving is so much more than we can grasp. It is not just about the one receiving, but also for the one giving.  It is about having the Faith that pleases Him (Hebrews 11:6), and going forth when HE says "GO!", and not questioning the how's, why's and when's. Just pure obedience.  And before you know it, you are hand in hand with GOD in a place where some see death and hopelessness, but God shows you beauty for ashes and gladness for mourning. We are forever changed. Bryan and Amy Blanton Angola…..I have said that name so many times since our return to home, Tuesday, April 19, 2011 at 3:30 a.m.  Is it possible for the name of a prison to sound peaceful?                                         I really didn't give a lot of thought to our upcoming trip to preach and sing at one of Louisiana State's Penitentiaries.  It would prove to be a life changing trip with Perkins Partnership Ministries.  I looked forward to another chance to be around this unique family that loves the Lord. We were scheduled to arrive on Saturday, April 16, 2011 and that is about all that was "scheduled".  Most in our group, if not all, like details, schedules, to know what is going on and when.  We didn't know where we were staying, where we would eat,  etc.  On the drive down Saturday, many questions and sighs were thrown about, but I was so peaceful.  Peaceful and no knowledge of really what and where we were going?  For me, that is most unusual, if not impossible to imagine….just ask my husband. Faith like a child is what we are told to have, that must be why it was one of our children that pointed to Matthew 10:5-10.  Jesus sent the twelve disciples out  with these instructions: "Don't go to the Gentiles or the Samaritans, but only to the people of Israel – God's lost sheep.  Go and announce to them that the Kingdom of Heaven is near.  Heal the sick, raise the dead, cure those with leprosy, and cast out demons.  Give as freely as you have received!  Don't take any money with you.  Don't carry a traveler's bag with an extra coat or sandals or even a walking stick.  Don't hesitate to accept hospitality because those who work deserve to be fed. "   We would remind ourselves of these directions a few times over the weekend.  Transportation was generously provided by a Christian brother.  The Church provided our gas.  We were given hospitality of houses to stay in and meals prepared for us by Big Lou and Hop-Sing.  We did not want for anything during our stay, except to remember everything we were experiencing. Part of the group stayed in town with the family that helped facilitate our trip to Angola, Louisiana.  The rest of us stayed in Angola,  inside the gates of a maximum security prison that is truly its own town.  I went through the gates of this "gated community" a Christ follower and came out a Christ Disciple.  I met a few of his disciples while visiting and will never forget them.  Warden Cain, Stephanie, Chaplain Peter, Noble, Sydney, Charles, Wayne, the list could on… There are many stories we have of our time in Angola.  Monday morning as I prayed, I pictured myself standing before the Throne and asked God to send me to do an everyday miracle for Him.  I am so blessed that He used me.  My husband and I met Noble and were able to talk with him about business outside the prison walls. Noble shared with us that just that morning, he had prayed to God for a financial blessing!  A financial blessing so that he could help bless others.  You see Noble is now known as Bishop Noble as he has recently earned a Bachelor's Degree through the Bible College  program there.  He prayed that there would be a way he could help other men enjoy this experience also. The Lord is using us to bring about a financial blessing to him and others.  We are only the mouthpieces of the Lord, it is truly a God thing and I am looking so forward to the completion of this miracle. Picture 18,000 acres of some of the most beautiful, well maintained land you will ever see.  Spaced out on this land are Camps surrounded by chain link fence and razor wire.  Inside each Camp, a beautiful church built by the men "housed" there.  It really is a metaphor for our life.  God has given each of us a beautiful landscape and we sometimes choose to be imprisoned by our circumstances and life choices.   I met men who had learned, albeit the hard way, how to live a "free life".  Some will never see outside the gates of Angola again and yet are so full of joy and peace it is inspiring.  My husband prayed in the "Circle of Prayer" before the Rodeo on Sunday afternoon.  He quoted John 8:36, "So if the Son sets you free, you will indeed be free." From the drive into Angola, the thrill of the Prison Rodeo, the tour of the grounds, the divine meeting,  the friendships we will cultivate, the church service we led and the hospitality we enjoyed, I am forever changed. Christie Taylor